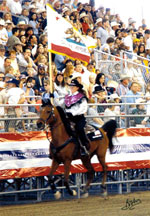 Welcome to my blog about the passion in my life. I'm very excited to see visitors here from around the world who all share something in common…our love for horses. There is so much to learn about these beautiful animals and I encourage everyone to never stop learning about your passion.
Whether you're a horse owner, hope to own one someday, or just have a love for horses, my goal here is to help you achieve all you desire towards your knowledge with our equine friends. I encourage you to leave a comment by clicking on the comment box at the end of each article. Perhaps you have story to share, enjoy an article, have a question or even if it's just to say hi and tell us a little about yourself and where you're from as it would be great to hear from you. And now, I'd like to share little of my journey with you.
Like many of you I have loved horse all of my life and can remember the day I got my first horse like it was yesterday. I have now owned horses for 22 years and have had the privilege of having them in my backyard for 20 of those. This has been a wonderful hobby and I have tried things like showing halter, western pleasure showing, competitive trail riding, cow sorting, team penning, 4H horse leader and have now been a member of a drill team for the past 10 years.
In case you're wondering, yes that's me in the picture on my now 19 year old Arab carrying the flag in the state that I reside in, California, U.S.A. Besides my children, he is the love of my life. I caught him out of his mama and he has been by my side ever since. Unfortunately I feel it's time to give him a break from the drill and I am now starting 3 new projects. I have 2 mustangs and the quarter horse you see pictured above. They are all coming 3 and I sure have my hands full!
This is a new blog and just like starting these new babies of mine I'm going to enjoy every step of the way. Another goal I have is to not only share some of my knowledge but to gain some from you as well. There is so much more in store and I would sure love for you to come along for a nice long trail ride to talk about the love in our lives.
Leave a Reply